Cores bearing factory
Deepgroove ball bearing are particularly versatile.They are simple in design,non-separable,suitable for high and even very high speeds and are robust in operation,requirying little maintenance.Deep raceway grooves and the close conformity between the raceway grooves and the ball enable deep groove ball bearings to accommodate axial loads in both directions,in addition to radial loads,even at high speeds,Single row deep groove ball bearings are the most widely used bearing type.
Feartures:
1.Low density. As the rolling body density decreases, high-speed operation of its centrifugal load is also reduced, which can work at higher speed.
2.Moderate elastic modulus. Elastic modulus is too large due to stress concentration and reduce the bearing capacity of the bushing.
3.Thermal expansion coefficient is small. Reduce the sensitivity to temperature changes, so that the bearing operating temperat.
4.High compressive strength. High compressive strength is the need for high stress for rolling bearings.
5.High hardness and high toughness. These two properties combine to achieve better surface roughness; and can prevent external par
6.Good anti-rolling contact fatigue and has a peel failure mode.
Special occasions should have high temperature, corrosion resistance and stability.
Applications:
The ceramic material has low density, medium elastic modulus, thermal expansion coefficient is small, high hardness, high temperature, corrosion resistance, non-magnetic, etc., to silicon nitride ceramic ball for the rolling body of ceramic ball bearings can significantly improve the bearing contact fatigue life, Has greatly expanded the application of rolling bearings, has been widely used in a variety of high-precision, high-speed machine tools, automobiles, racing, subway, motor, aero engine, petrochemical machinery, metallurgical machinery and other fields
.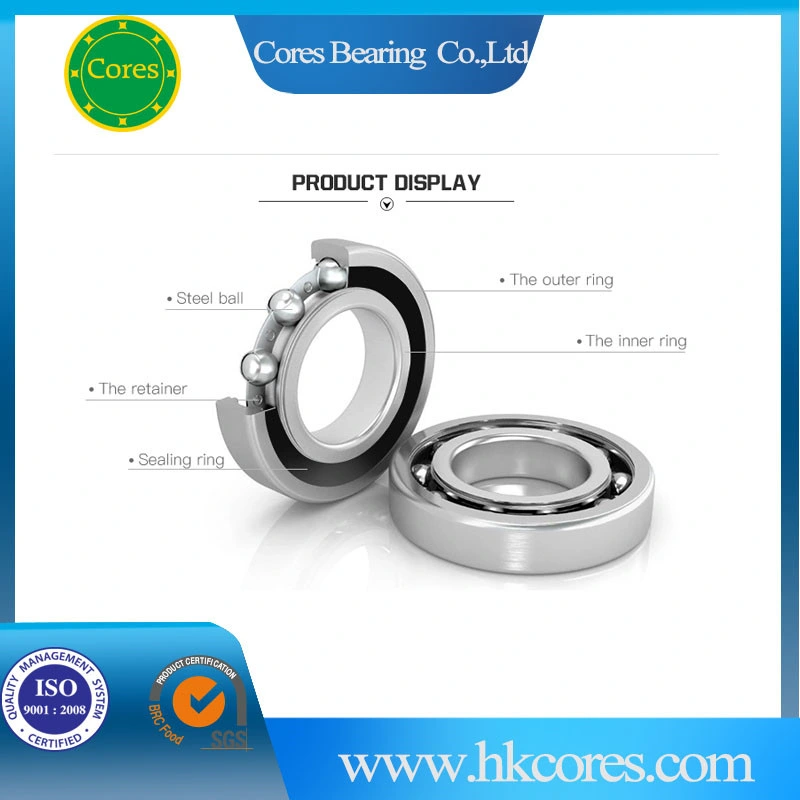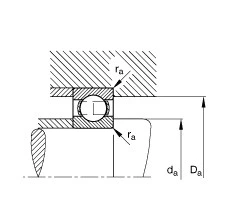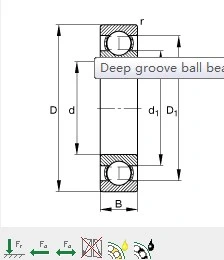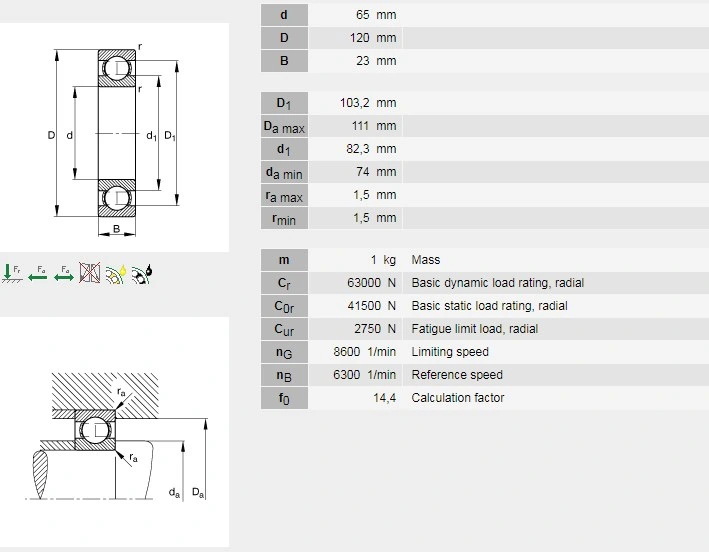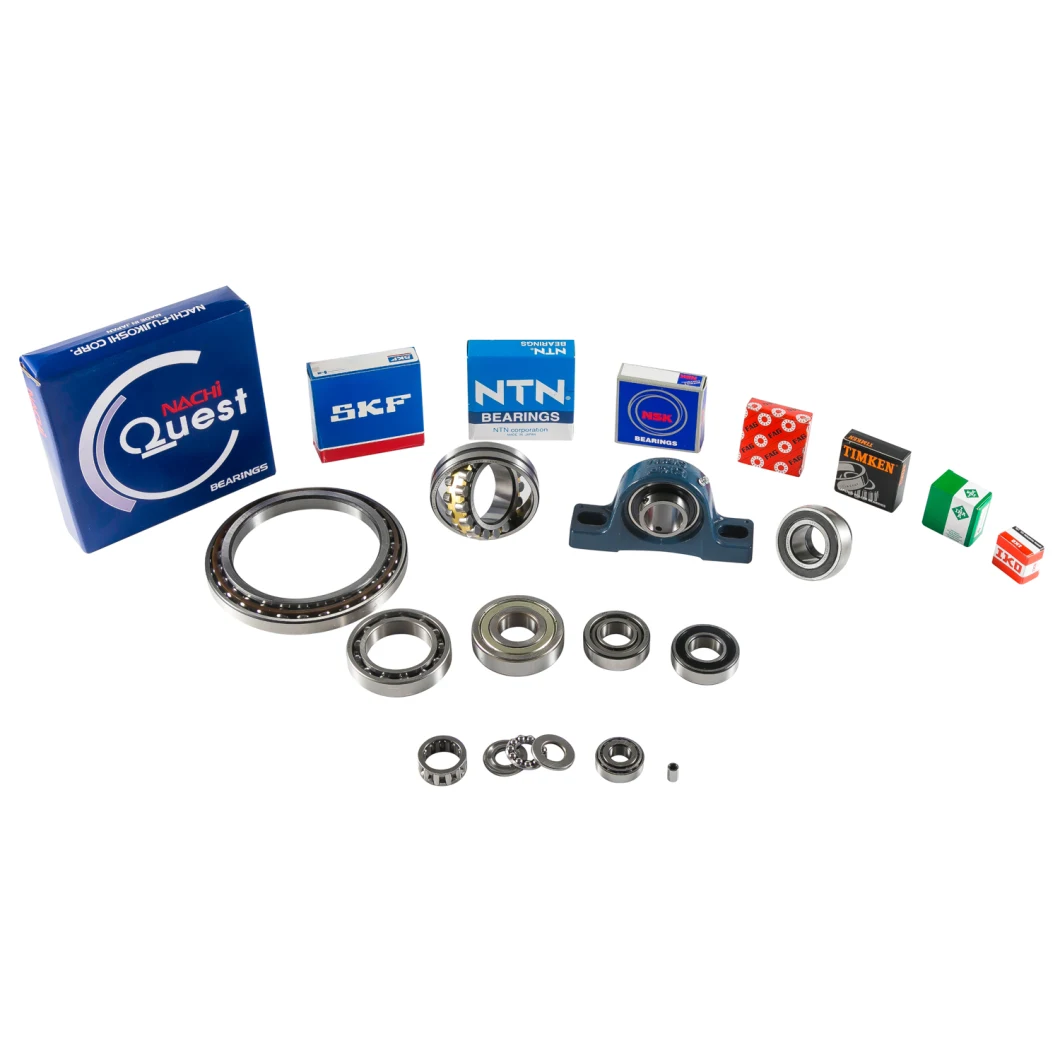 Bearing No.

Boundary Dimensions(mm)

Basic Load Rating (KN)

Weight

Open

Shields

Seals

d

D

B

Cr.

Cor.

(Kg)

6000

6000-Z

6000-2Z

6000-RS

6000-2RS

10

26

8

4.58

1.98

0.02

6001

6001-Z

6001-2Z

6001-RS

6001-2RS

12

28

8

5.1

2.36

0.02

6002

6002-Z

6002-2Z

6002-RS

6002-2RS

15

32

9

5.6

2.85

0.033

6003

6003-Z

6003-2Z

6003-RS

6003-2RS

17

35

10

6

3.25

0.04

6004

6004-Z

6004-2Z

6004-RS

6004-2RS

20

42

12

9.4

5

0.07

6005

6005-Z

6005-2Z

6005-RS

6005-2RS

25

47

12

10

5.85

0.083

6006

6006-Z

6006-2Z

6006-RS

6006-2RS

30

55

13

12.7

8

0.126

6007

6007-Z

6007-2Z

6007-RS

6007-2RS

35

62

14

16

10.2

0.163

6008

6008-Z

6008-2Z

6008-RS

6008-2RS

40

68

15

16.6

11.6

0.2

6009

6009-Z

6009-2Z

6009-RS

6009-2RS

45

75

16

20

14.3

0.253

6010

6010-Z

6010-2Z

6010-RS

6010-2RS

50

80

16

20.8

15.6

0.282

6011

6011-Z

6011-2Z

6011-RS

6011-2RS

55

90

18

28.5

21.2

0.409

6012

6012-Z

6012-2Z

6012-RS

6012-2RS

60

95

18

29

23.2

0.413

6013

6013-Z

6013-2Z

6013-RS

6013-2RS

65

100

18

30.5

25

0.464

6014

6014-Z

6014-2Z

6014-RS

6014-2RS

70

110

20

38

31

0.642

6015

6015-Z

6015-2Z

6015-RS

6015-2RS

75

115

20

39

33.5

0.676

6016

6016-Z

6016-2Z

6016-RS

6016-2RS

80

125

22

47.5

40

0.893

6201

6201-Z

6201-2Z

6201-RS

6201-2RS

12

32

10

6.8

3.05

0.039

6202

6202-Z

6202-2Z

6202-RS

6202-2RS

15

35

11

7.8

3.75

0.045

6203

6203-Z

6203-2Z

6203-RS

6203-2RS

17

40

12

9.58

4.78

0.064

6204

6204-Z

6204-2Z

6204-RS

6204-2RS

20

47

14

12.7

6.55

0.11

6205

6205-Z

6205-2Z

6205-RS

6205-2RS

25

52

15

14

7.8

0.133

6206

6206-Z

6206-2Z

6206-RS

6206-2RS

30

62

16

19.3

11.2

0.201

6207

6207-Z

6207-2Z

6207-RS

6207-2RS

35

72

17

25.5

15.3

0.299

6208

6208-Z

6208-2Z

6208-RS

6208-2RS

40

80

18

29

18

0.382

6209

6209-Z

6209-2Z

6209-RS

6209-2RS

45

85

19

31

20.4

0.407

6210

6210-Z

6210-2Z

6210-RS

6210-2RS

50

90

20

36.5

24

0.478

6211

6211-Z

6211-2Z

6211-RS

6211-2RS

55

100

21

43

29

0.632

6212

6212-Z

6212-2Z

6212-RS

6212-2RS

60

110

22

52

36

0.807

6213

6213-Z

6213-2Z

6213-RS

6213-2RS

65

120

23

60

41.5

1.03

6214

6214-Z

6214-2Z

6214-RS

6214-2RS

70

125

24

62

44

1.11

6215

6215-Z

6215-2Z

6215-RS

6215-2RS

75

130

25

66

49.5

1.7

6216

6216-Z

6216-2Z

6216-RS

6216-2RS

80

140

28

72.5

53

2.1

6217

6217-Z

6217-2Z

6217-RS

6217-2RS

85

150

28

84

62

2.1

6218

6218-2Z

6218-2RS

90

160

30

96.5

72

2.26

6219

6219-2Z

6219-2RS

95

170

32

108

81.5

2.79

6220

6220-2Z

6220-2RS

100

180

34

122

93

3.36

6221

6221-2Z

6221-2RS

105

190

36

133

105

3.99

6300

6300-Z

6300-2Z

6300-RS

6300-2RS

10

35

11

8.15

3.45

0.057

6301

6301-Z

6301-2Z

6301-RS

6301-2RS

12

37

12

9.65

4.15

0.064

6302

6302-Z

6302-2Z

6302-RS

6302-2RS

15

42

13

11.4

5.4

0.09

6303

6303-Z

6303-2Z

6303-RS

6303-2RS

17

47

14

13.4

6.55

0.117

6304

6304-Z

6304-2Z

6304-RS

6304-2RS

20

52

15

15.8

7.8

0.155

6305

6305-Z

6305-2Z

6305-RS

6305-2RS

25

62

17

22.4

11.4

0.24

6306

6306-Z

6306-2Z

6306-RS

6306-2RS

30

72

19

26.5

16.3

0.363

6307

6307-Z

6307-2Z

6307-RS

6307-2RS

35

80

21

33.5

19

0.481

6308

6308-Z

6308-2Z

6308-RS

6308-2RS

40

90

23

42.5

25

0.654

6309

6309-Z

6309-2Z

6309-RS

6309-2RS

45

100

25

53

31.5

0.869

6310

6310-Z

6310-2Z

6310-RS

6310-2RS

50

110

27

61.8

38

1.12

6311

6311-Z

6311-2Z

6311-RS

6311-2RS

55

120

29

71.5

47.5

1.43

6312

6312-Z

6312-2Z

6312-RS

6312-2RS

60

130

31

82

52

1.79

6313

6313-Z

6313-2Z

6313-RS

6313-2RS

65

140

33

92.5

59.5

2.08

6314

6314-Z

6314-2Z

6314-RS

6314-2RS

70

150

35

104

68

2.52

6315

6315-Z

6315-2Z

6315-RS

6315-2RS

75

160

37

113

77

3.02

6316

6316-Z

6316-2Z

6316-RS

6316-2RS

80

170

39

123

86.5

3.59